Just another manic Monday. I drove over two hours to meet my subject today and when I got there I realized my video camera was malfunctioning so I have to do it all again next week! After 5 hours of pointless driving I get back to find out that another subject wants to reschedule so my week of being "awesome grad student girl" is quickly (and I am talking warp speed here) going in the toilet. On top of which, I learned that my cousin's wedding (which I had firmly believed was one week from Saturday) is actually this Saturday so I have to scramble to get everyone ready to leave for Minnesota on Friday.
Anyone else have days like this?
So on this day of chaos when I feel like tossing my head back and screaming "WHY ME GOD WHY ME?" (okay so really nothing that dramatic but a good run and a pint of Ben and Jerry's might substitute) I have decided it is finally time to post a picture of a FO. I need the thrill of accomplishment on a day when I have managed to accomplish nothing and actually put myself further behind. So here it is...........
One beary cute finished object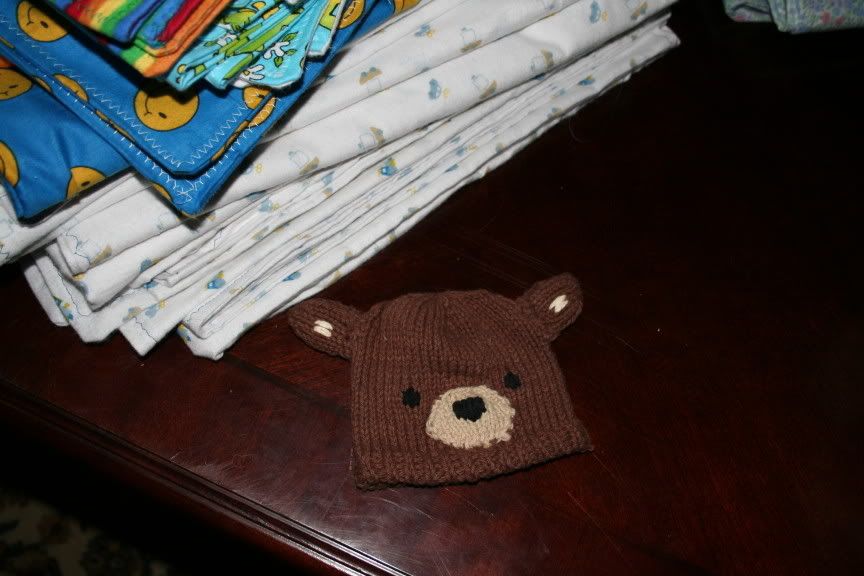 The pattern is from a box of pattern inserts called "knitting to go." This pattern comes with a companion duck which I have also made, however, I finished it mere hours before I gave it away and in my sleep deprived state failed to take a picture of it. The pattern recommends Rowan's cotton glace which is in short supply around here. Therefore, I substituted with Lily's Sugar and Cream using size six needles. This hat was made for a friend who recently had a baby, however I am considering making another bear and a duck for the upcoming preemie project donation date.
There, I feel better already.