Okay I am still alive. I have been running around like crazy doing stuff for the dissertation data which has left me little time to blog. However, I have still been knitting. So here is an update on my progress on the ongoing projects.
Zach's Blankie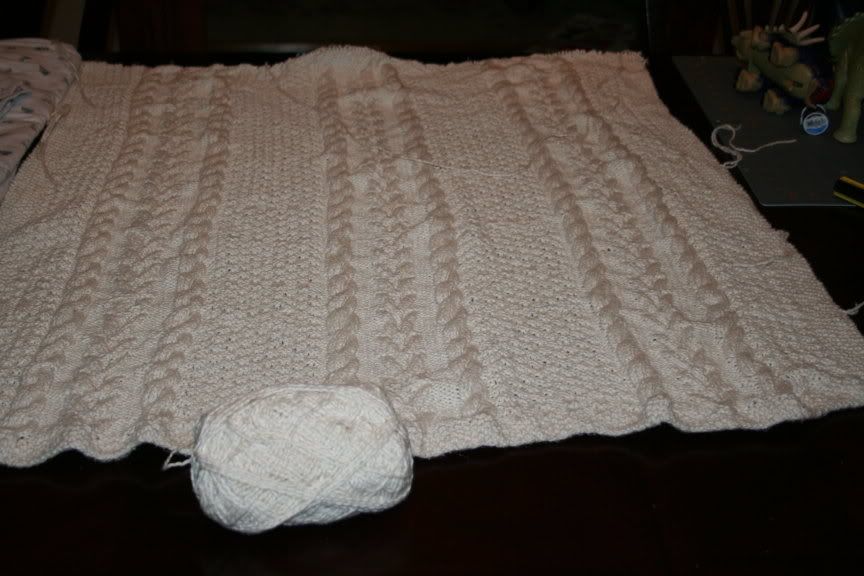 Zach's blankie is an aran knit pattern found in Knit Baby Blankets! from the Knit! series of books. I am using cotton (cotton tots) rather than the prescribed wool. I was a little nervous at first, however, I have made a lot of progress on this and am pretty happy with it. I am a mere 12 repetitions left from finishing it and hope to have it done by this weekend! Zach seems to like it as he chews on it every time I pull it out. I will have him model it when it is done so stay tuned.
Amazing lace shawl:
Okay so I fired my pattern. This is not the moment in my life when I need a pattern with 162 non repeating rows (not counting fringe). After about a dozen attempts at six inches that were supposed to look like flowers but instead looked like a unrelated series of loops I caved and gently packed the pattern away to be taken up at a later date (and I think with a heavier yarn). After browsing the net I have chosen to use the pattern I found on
Yarn Harlot's
website. The pattern is called snowdrop shawl and can be found
here
. I will take up the lacey charge once again soon!
Trekk with me socks:
The sad poor socks still sit in their cast on state waiting for attention....... I hope that they will get the attention they deserve soon :(
In other news:
Okay so I am bad. I said I would not start any more projects. MUST COMPLETE CURRENT PROJECTS. However, I was strolling through Wal-mart and found several things of abandoned $1.00 flannel. SOOOOO 42 yards of flannel later I have this
I will have this random pile of flannel (as well as 12 more yards not currently pictured) turned into
16 large blankets and 16 small blankets. Yep, yep I will
Dissertation (the final project). The good news of this month is that I have gotten my dissertation off the ground and I am 10% done with data collection! I think I am going to make myself a little progress bar for the side of my blog
Happy knitting and margaritas for all if you have read this far!